There is no denying that many ideas are possible when you use videos for your business, but you need to keep in mind that even though you can do a lot with video marketing, it's still important to be consistent so that your efforts don't go to waste.
Many people know what a brand style guide is, but only a few are aware that a video style guide also exists. So let's talk about it in this post. We'll tackle these questions:
What is a video style guide and how does it help?
How different is a video style guide from a brand style guide?
Why do you need a video style guide for your business?
Is it difficult to create a video style guide?
How much does a video style guide cost?
Let's get started.
What Is a Video Style Guide and Why Do You Need It for Your Video Marketing?
All brands want to be successful, but not all of them know how to. One of the simplest ways for a brand to reach its goals is to be consistent. However, most brands nowadays want to be significantly different from their competitors, so they do unusual things and forget about keeping their brand identity intact while doing so.
Video marketing is one of the marketing strategies popular among brands because their audiences are becoming more and more interested in videos, and we agree. But one thing that many don't know about is that, no matter how great the video is, if your brand wasn't taken into consideration when it was being created, it wouldn't help your brand at all.
Your audience may find your video entertaining and valuable, but if they didn't see its connection with your brand, what they'd remember is that video you posted and not your brand. That's a recipe for brand failure.
That's the reason why you need a video style guide. A video style guide is a more specific type of brand style guide because it is focused on videos. It can be standalone, but it can also be part of a brand style guide. Take a look at this SRA Brand Standard Guide to see how you can combine your brand and video guidelines in one document.
Inside the video style guide are the video elements and styles that you or the video production agency must use when creating videos for your brand. Here are those elements and styles:
1. Colors
It's not news that colors have an effect on how we see things. Even psychologists agree that colors are associated with emotions, and you need to consider that before you decide what colors to use for your brand.
Do you want to appear friendly? Choose lighter and bright tones. Or would you rather be taken more seriously? Pick strong colors then! Here's the color palette of Strategic Risk Alternatives: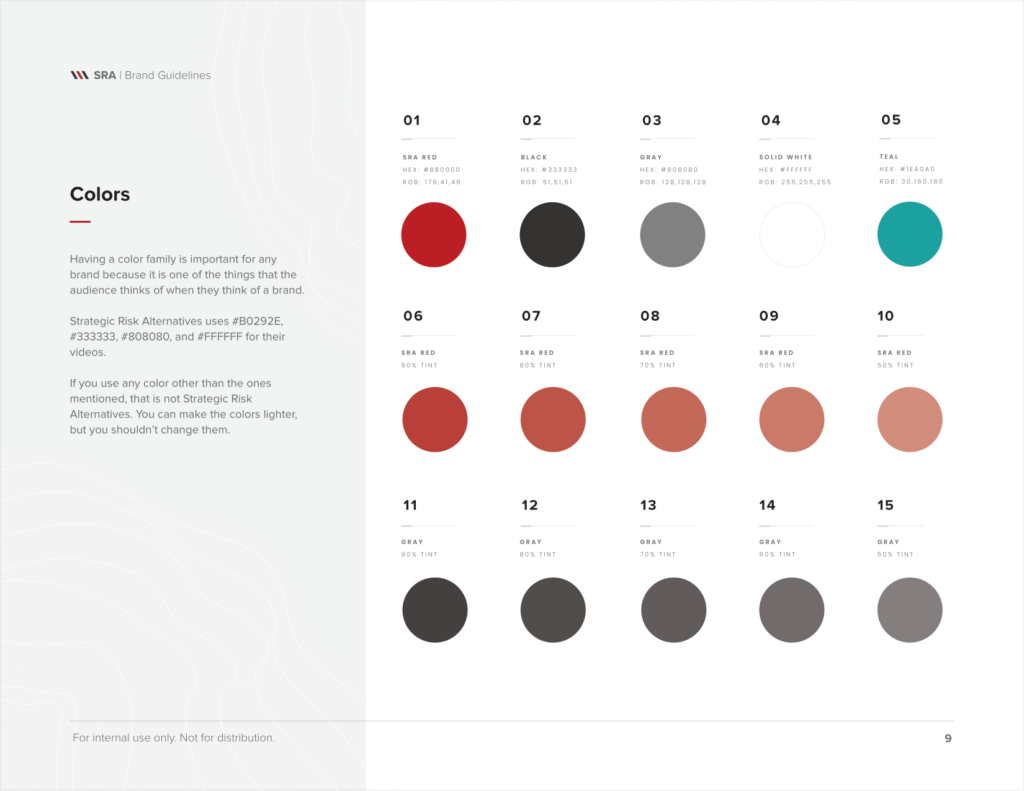 But let's assume you've already chosen colors. Each color you choose should have a particular purpose, and you should write that in your video style guide. Video professionals need to know how to properly use your colors so they can get the job done right.
2. Fonts
Like colors, the fonts you use for your brand also have an impact on what your audience will think of you. Take a look at these fonts Strategic Risk Alternatives use for their brand: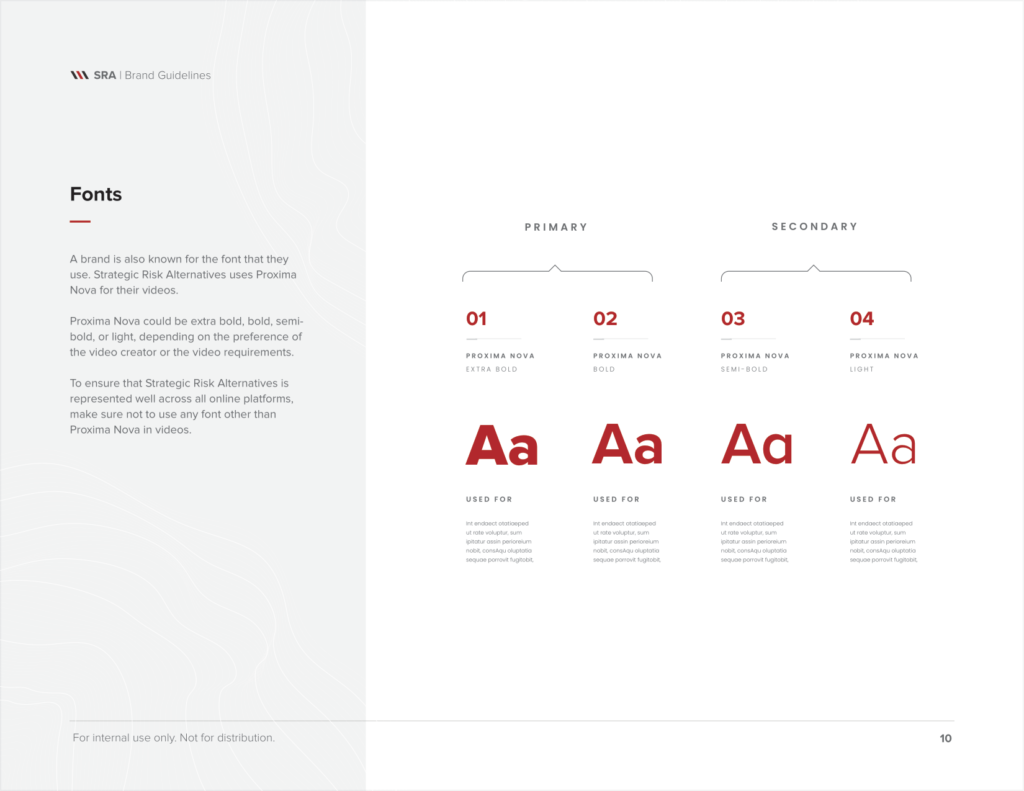 There are many fonts that exist in the world, but you don't have to go through all of them because it's better if the fonts you use are common fonts so as not to have problems with availability, compatibility, and legality.
Keep in mind that there are times when you will need to work with a video production agency so you can have high-quality and effective videos. If you use uncommon fonts or fonts you're not allowed to use commercially, you and the video production agency might get into trouble.
In choosing fonts, you should consider what vibe you want your brand and your videos to have. If you want your audience to feel that you are approachable, try using fonts with curves.
3. Styles and Textures
Sometimes, it's not enough to just develop a unique color palette and font combinations to stand out in your industry. Sometimes, you also need to have your own style so that people can better recognize and remember you.
You know what styles and textures are. If you want your brand to be more solid, you need to have one or more graphical styles or video textures that fit your brand. Here's what's unique about Strategic Risk Alternatives' videos: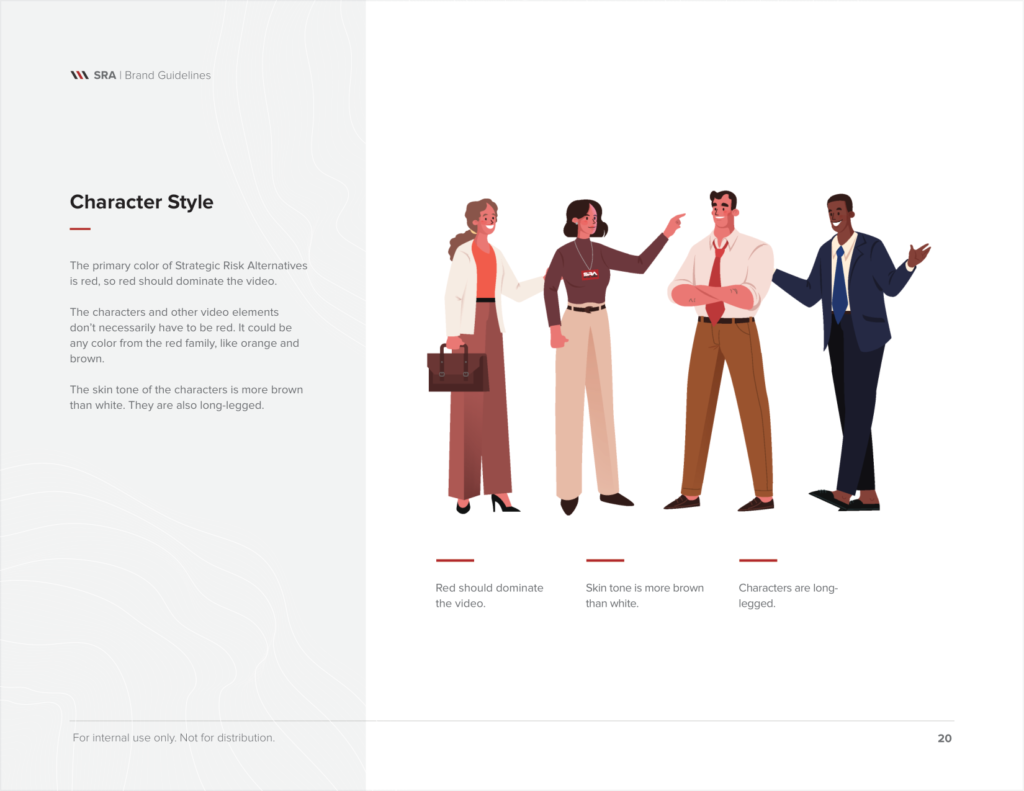 4. Transitions and Effects
Videos will not be complete without effects and transitions, and if you want your videos to stand out more and make your brand more recognizable through your videos, there must also be something unique when it comes to the flow of your videos.
It's better if you seek help from video-editing experts so that you have a better idea of what is right for your brand. For sure, they will show you different transitions and effects and all you have to do is choose among those.
Here's a sample from Strategic Risk Alternatives' video style guide: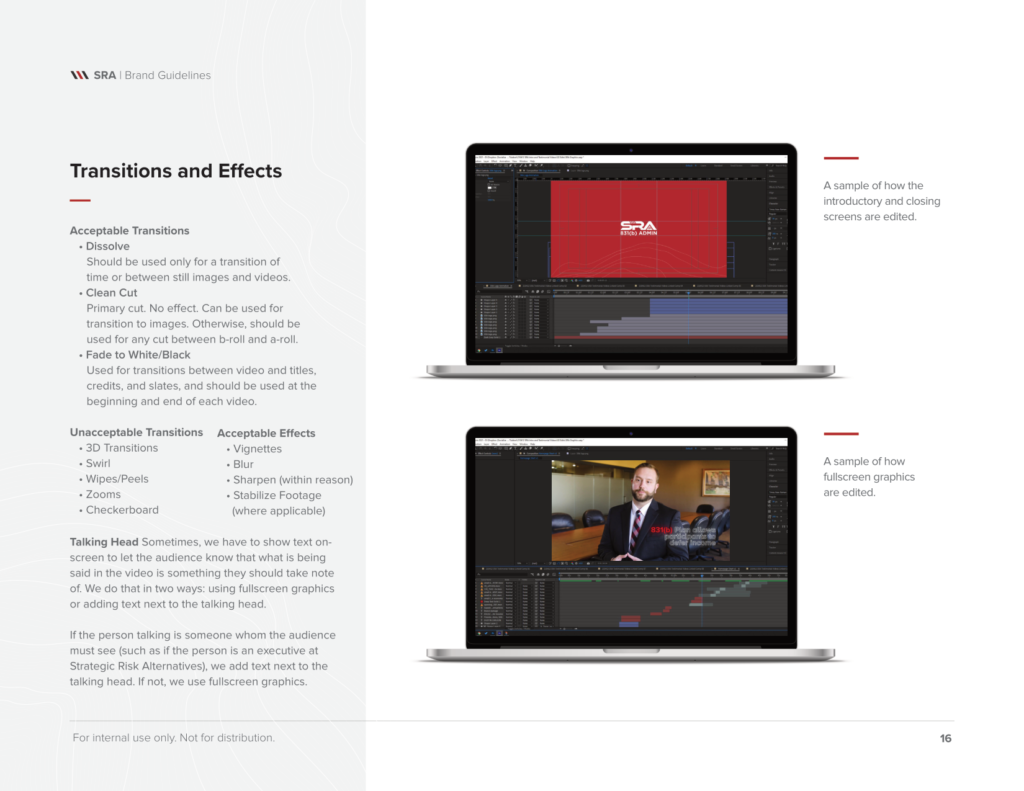 5. Proper Attire
You don't want your brand to be represented by someone who doesn't seem to be part of your team, so be sure to include in your video style guide what to wear whenever they are asked to speak on behalf of your brand.
This depends on your culture. If you require your people to wear a uniform, you could ask them to wear their uniform. If you wear corporate attire, then ask them to wear corporate attire.
6. Opening
You must show the viewers something interesting from the beginning so that they feel like they would miss out on something great if they didn't continue watching the video. You have to hook them in right off the bat so they don't ignore your videos and continue scrolling.
Most videos that you can see on the internet start off with the logo of the brand. That's the most common way to do it, but you're not required to put your logo in the beginning. In fact, if you want to differentiate yourself, then you have to do things in a different way.
You can be as creative as you want, but make sure that you don't do things that are against your brand.
7. Lower Thirds
When creating templates for your lower thirds, you must use your brand colors and fonts so that they are connected to your brand. If you use different brand elements, then your audience will be confused and may even have difficulty finding the connection between the video and you.
Lower thirds may not be taking a huge portion of the screen, but they matter regardless because important details about important people are on them. Here are examples of lower thirds from the SRA Brand Standard Guide: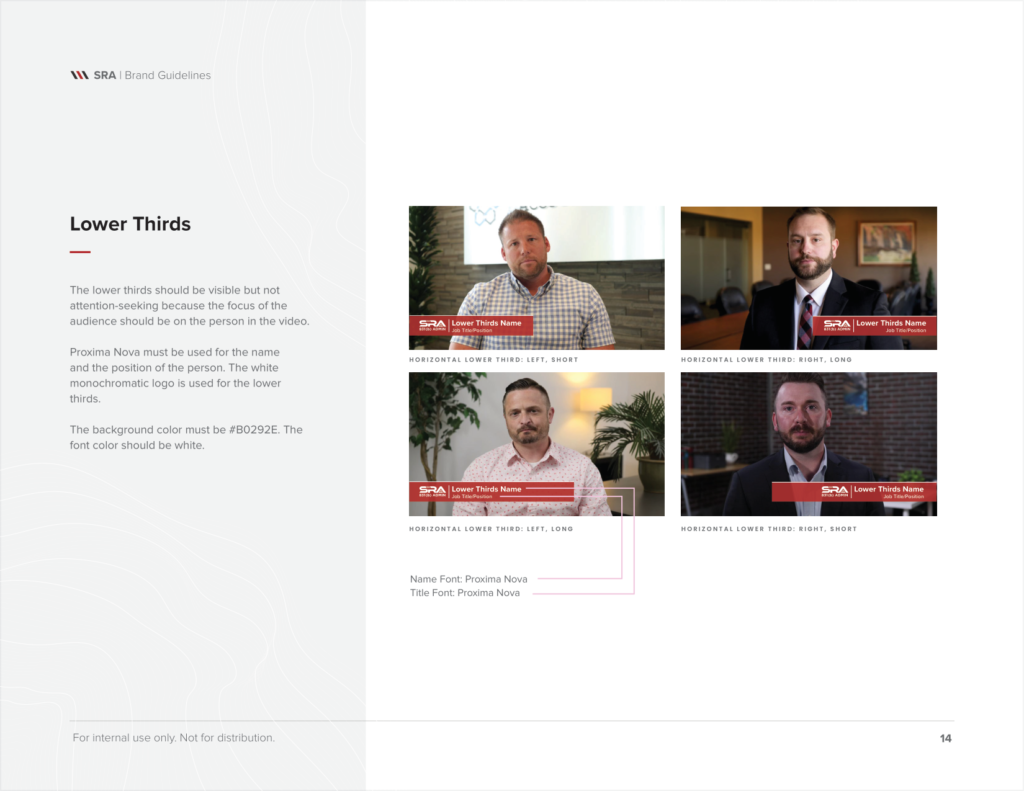 8. Fullscreen Graphics and Quotations
If you already know that you will, a lot of times, quote meaningful words from other people or flash graphics on-screen, creating a template for that shouldn't be an option. Your brand should also have its own unique style for fullscreen graphics and text and the style should be on-brand.
9. End Card
If you want your audience to watch your video until the end, the beginning must be interesting enough. But if you want them to do what you want them to do, the ending must be compelling. That's the reason why you should also pay attention to your end card. This is how the end card looks like: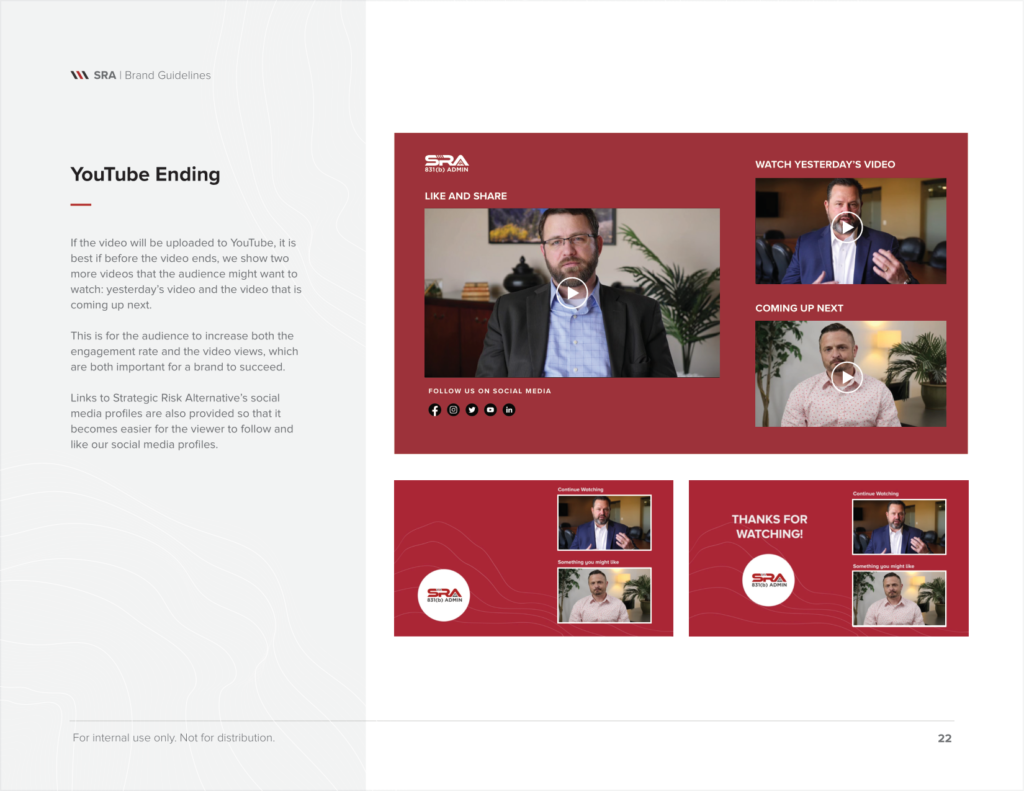 People don't have a plan when using the internet. They usually just do random things and click on whatever catches their attention. If you take advantage of that and show them some more of your videos at the end of each of your videos, they will end up spending lots of time on your brand and you will see better results from your efforts.
10. Thumbnails
People are attracted to beautiful things, so if you want them to stop scrolling when they see your videos on their feed, then you must spend time creating thumbnails that are eye-catching. And if you have different video categories or series, it's better if you have a template for each so that your audience will know right off the bat what they should expect from the video.
Let's Create a Video Style Guide for Your Brand
There are lots of factors to consider when creating a video style guide, and those factors would be difficult to keep in mind if you weren't a designer or a video professional. The good thing is, you can always choose to hire a video agency like Socialize Video to create a video style guide for you!
The video style guides that we create for our clients are tailored to their needs. Not all brands are the same, and not only when it comes to the brand elements. Each brand has its own audience, goals, strategies, and stories, so one size doesn't fit all—and we consider that when creating the guide.
You may want to check out this SRA Brand Standard Guide that we created for Strategic Risk Alternatives.
If interested, contact us at contact@socialize.video.