Social media has completely changed the game for businesses in today's world. It's not just a way for people to keep up with their friends and family anymore; it's a vital marketing tool that can help businesses connect with customers, build their brand, and reach new audiences.

With that said, having a great social media strategy in place is crucial for any business looking to thrive in the digital age. This strategy should have a comprehensive scope that covers everything from identifying the target audience to creating compelling content, scheduling posts and analyzing metrics to ensure success.
Benefits of Having a Social Media Strategy
One of the most significant benefits of having a great social media strategy is increased brand awareness. With billions of users worldwide on platforms like Facebook, Twitter, Instagram, and LinkedIn, social media provides an enormous opportunity for businesses to reach new audiences. By creating content that resonates with their target audience and building a strong presence on these platforms, businesses can significantly increase their brand's visibility and reach.

Social media also allows businesses to connect with their customers in real-time, which is a really big deal. Simply by just responding promptly to comments and messages, businesses can straight up provide excellent customer service and build a loyal following. It's a fact and customers love it when businesses take the time to listen to their needs and respond promptly, which can do absolute wonders for building a positive reputation.
Improving Your Search Engine Ranking
Last but not least, if you have high-quality content and a cohesive social media strategy it can improve a business's search engine rankings. Search engines like Google and Yahoo use social media signals to determine the brand's relevance and authority. By regularly sharing high-quality content on social media platforms and engaging with followers, businesses can improve their search engine rankings, leading to increased traffic to their website.

It is an absolute must to have these strategies in place for any businesses looking to succeed in the digital age. Levering these social media platforms and maximizing all the tools they offer is what we bring to the table. With a well-crafted strategy, we can help you stay ahead of the curve and stand out in the competitive digital landscape.
The Social Media Distribution Process
Here's what we go through in helping our clients achieve an efficient social media timeline. These processes may look simple as we've narrowed it down on what we want to focus most—social media.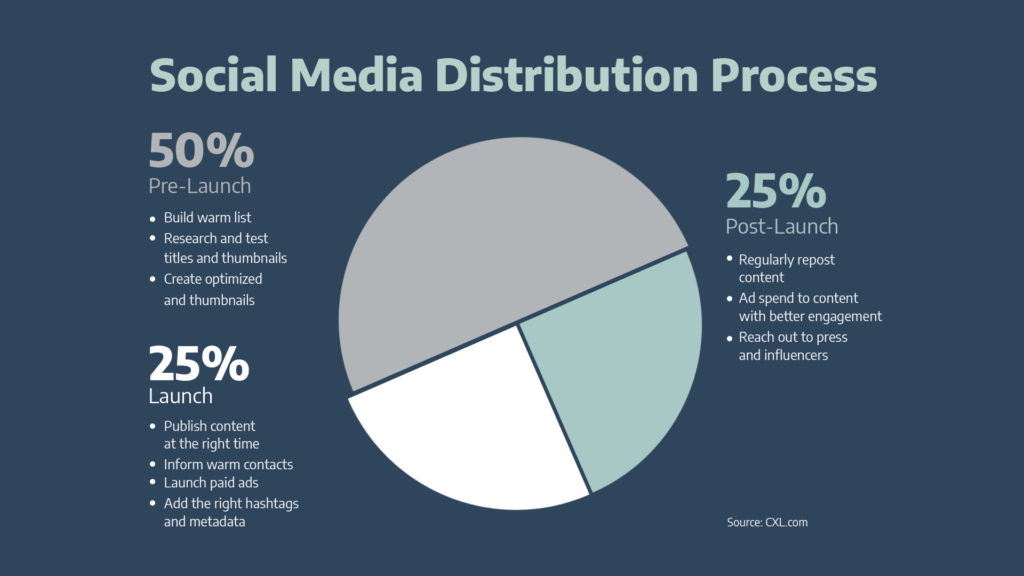 50% Pre-Launch
Build your list of warm contacts and ask for commitment to share
Determining your warm contacts will help you further analyze the type of audience and market you attract. Big or small, your warm contacts can still help you generate organic reach.
Research and test titles and thumbnails to see what works best
Thumbnails with titles that are easy to read are the ones that can easily grab attention. Thumbnails showing a face can also help build familiarity to your audience.
Create optimized titles and thumbnail
Inserting some best-performing keywords that are closer to your niche are good. Don't forget to gather insights and analytics to help you decide and track your content performance.
25% Launch
Publish content at the right time
Remember that the "right time" varies depending on your target audience. Boomers, Gen X, Millennials, and Gen Z use social media on different hours of the day.
Immediately inform warm contacts
This can be done and scheduled using different email marketing platforms.
Launch paid campaign (if appropriate)
Add the right hashtags and metadata
25% Post-Launch
Regularly repost content
Content is king but consistency is also a key to keep your audience engaged.
Ad spend to posts with high levels of engagement
Further outreach to press and influencers
Once we have established a process to help us through the course of the campaign, we can now proceed on building a social media strategy which talks more of the content and delivery of our campaign.
Building a Social Media Strategy
When it comes to building a social media strategy for your business, there are two things to keep in mind. Campaign and Content.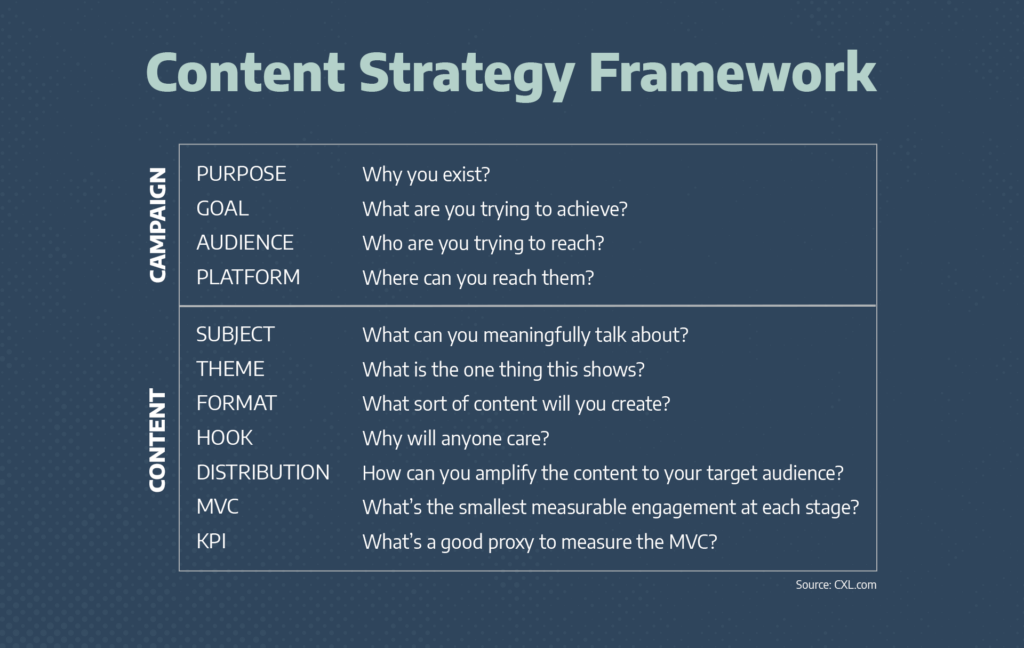 Let's start with the campaign as this will serve as your outline for your framework to ensure an accurate, streamlined and cohesive goal. Below are some guideline questions you can utilize to help you with your social media strategy.
Purpose
Why do you exist? What services or products can you provide your customers to help them?
Goal
What are you trying to achieve? Do you want to increase your website visits? A higher monthly conversion?
Audience
Who are you trying to reach? Are you targeting homeowners? Which age bracket do they belong to?
Platform
Where can you reach them? Social media platforms? Or through email marketing?
Next will be your Content. This is the meat of your strategy, the make or break of your objective.

Subject – What can you meaningfully talk about?
Theme – What is the one thing this shows?
Format – What sort of content will you create?
Hook – Why will anyone care?
Distribution – How can you amplify the content to your target audience?
MVC – What's the smallest measurable engagement at each stage?
KPI – What's a good proxy to measure the MVC?
After building your social media strategy, we highly focus on producing majority of video content. As the trend and marketers suggests, it is the most efficient way to reach out to your audience on almost any social media platform.
Boosting Your Video Content
While a video can be long form or short form, it is better to highlight these three major points through the course:
Head
First 3-5 seconds; The most crucial part of the video and the determining point that will influence your audience to watch longer or not.
Capture attention suggest value proposition; How can you help your customer?
Body
Main part of the video
Tell the story
Tail
Final 5-10 seconds; A closing statement that will help them remember your brand.
Call-to-action; This part can include your website or email address to help your customer get in touch with you.
Additional best practices we follow also include:
On thumbnails, large and bold texts
Inserting a logo and watermark to build brand recognition to your audience
Uploading captions for better visibility and to help our audience follow through the whole content
What is A Good Hook?
To help you determine what a good hook should be, we have prepared a list down below. You will notice these hooks resonate well on emotions and can work on any targeted audience. We follow these hooks both on copywriting and content.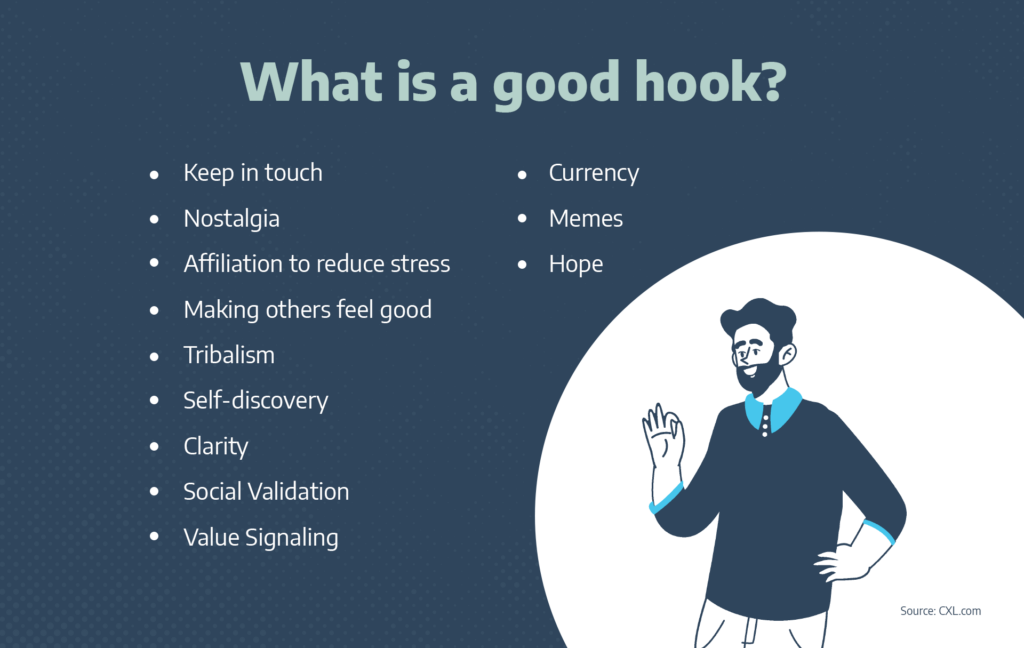 Keep in touch
Nostalgia; Helps your audience look back on something they were familiar about
Affiliation to reduce stress
Making others feel good
Tribalism; Advocating to a certain event or movement such as mental health or women empowerment
Self-discovery; Triggers what is important to you and your values
Clarity
Social Validation;
Value Signaling
Currency
Memes
Hope
Keep in touch: Sharing personal stories or experiences, offering advice or tips on building and maintaining relationships, or highlighting events or activities that bring people together can be an effective hook.
Nostalgia: Triggering positive memories from the past can be a powerful hook for your audience.
Affiliation: Something that will help your audience feel like they are part of a community can create a powerful hook.
Making others feel good: People love to feel good, and they are often drawn to content that makes them laugh, smile, or feel happy so use content that is uplifting and positive.
Tribalism: Advocating for a certain cause or movement can be a powerful hook, especially if it aligns with your audience's values.
Self-discovery: Help your audience discover more about themselves and their values—they love these types of content.
Clarity: People often struggle with complex topics or ideas so providing clarity on a topic your audience loves can work as a strong hook.
Social Validation: When your audience sees self-assuring content, they are more drawn to it. People on social media often seek validation online and from others.
Value Signaling: Creating content that aligns with your audience's values can work as a great hook since people want to see something that shares the same values to theirs.
Currency: People are often drawn to content that has some sort of monetary value or reward attached to it.
Memes: Memes are a popular way to create humor and engagement online.
Hope: People are often drawn to content that gives them hope and are positive.
Hooks can be confusing and here are some that sound like hooks, but are actually not. We avoid these types of content but we also make sure to hear what our clients would suggest.
Quality
On-brand
Interesting
Topical
Relevant
Wrapping Up
Our approach to social media management is a combination of results-driven data based on popular and leading studies and from our research done in-house. This allows us to provide effective and high-quality content that works for us and for our client.

In a world that runs on numbers, we made sure to integrate top statistics for what works, the ins-and-outs of the market to enhance and procure great results.

Here at Socialize, we understand that Quality and Content is King so we make sure both are crowned.